NEW YORK, NY – According to a letter written to ICANN on May 2, 2017, the McDonald's globally branded empire has indicated it has lost interest in running and maintaining its own gTLD domains, (.McDonalds and .MCD), by terminating its registry agreement.
McDonald's is one of the world's most visited restaurants, serves over 117 countries feeding millions of customers every day. In its top five markets (U.S., France, the U.K., Germany and Canada) nearly 75% of the population lives within three miles of a McDonald's. Many articles, books and movies are based specifically on the success of the branding and marketing strategies of McDonalds, and many research and follow these strategies. Due to this, other contract terminations by major brands will likely follow suit.
On March 01, 2017, McDonald's unveiled Its New Global Growth Plan. Although it included "Enhancing Digital Capabilities and the Use of Technology to Dramatically Elevate the Customer Experience" apparently, this will have nothing to do with navigating your way to their sites or apps. The good ole, regular, website address works just fine for now, and likely, the foreseeable future.
Below is the letter to ICANN dated May 2, 2017 by its VP of Global Brand Marketing: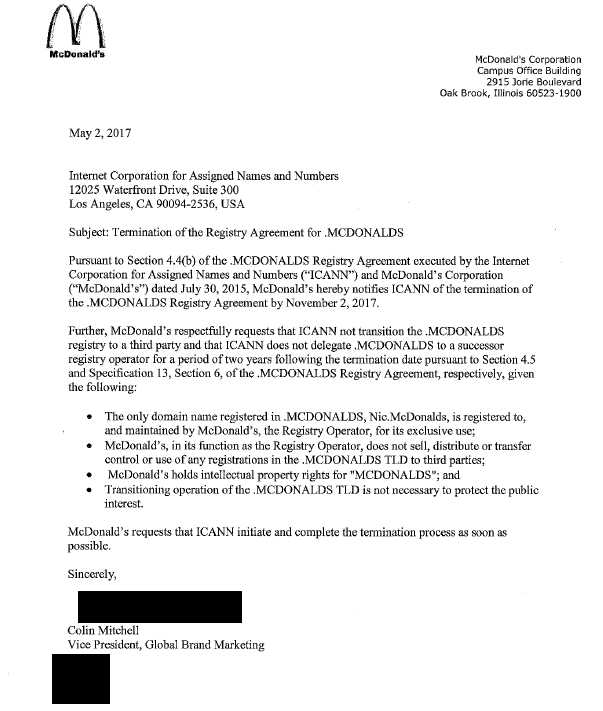 Link to original document on the ICANN site.
This seems like it 'could' be a good strategy, in the defensive registration processes, to first become the "Registry Operator" and then effectively put ICANN on notice to not delegate in the future. [yet probably not even necessary with huge brand/incontestable trademark]
4.4           Termination by Registry Operator.
(b)  Registry Operator may terminate this Agreement for any reason upon one hundred eighty (180) calendar day advance notice to ICANN.
https://newgtlds.icann.org/sites/default/files/agreements/agreement-approved-09jan14-en.htm
4.5           Transition of Registry upon Termination of Agreement.  Upon expiration of the Term pursuant to Section 4.1 or Section 4.2 or any termination of this Agreement pursuant to Section 4.3 or Section 4.4, Registry Operator shall provide ICANN or any successor registry operator that may be designated by ICANN for the TLD in accordance with this Section 4.5 with all data (including the data escrowed in accordance with Section 2.3) regarding operations of the registry for the TLD necessary to maintain operations and registry functions that may be reasonably requested by ICANN or such successor registry operator.  After consultation with Registry Operator, ICANN shall determine whether or not to transition operation of the TLD to a successor registry operator in its sole discretion and in conformance with the Registry Transition Process; provided, however, that (i) ICANN will take into consideration any intellectual property rights of Registry Operator (as communicated to ICANN by Registry Operator) in determining whether to transition operation of the TLD to a successor registry operator and (ii) if Registry Operator demonstrates to ICANN's reasonable satisfaction that (A) all domain name registrations in the TLD are registered to, and maintained by, Registry Operator or its Affiliates for their exclusive use, (B) Registry Operator does not sell, distribute or transfer control or use of any registrations in the TLD to any third party that is not an Affiliate of Registry Operator, and (C) transitioning operation of the TLD is not necessary to protect the public interest, then ICANN may not transition operation of the TLD to a successor registry operator upon the expiration or termination of this Agreement without the consent of Registry Operator (which shall not be unreasonably withheld, conditioned or delayed) (continues)…